donation equipment
Posted by admin | Actions, donation equipment | Posted on décembre 8th, 2009

Collecte de matériel
En France les collectes sont organisées par Christophe Audoire lors de compétitions aux stand d'exposition LIGNE DROITE .  World Inline Coach organise des collectes de matériels de course usagés (ou neufs) pour des donations gratuites à des patineurs dans les pays en voie de développement aidés par l'association.
Ces collectes de matériels sont organisées depuis plusieurs années ( Afrique du Sud, Kenya …).
Si vous avez d'anciennes chaussures, châssis ( 5 X 84 mm par exemple) des roues ( de tous diamètres), casques, combinaisons de course, roulements ils sont les bienvenus. L'association reconditionnera les patins et organisera le transport jusque dans les pays concernés…
Merci de faire passer cette information autour de vous et de nous faire parvenir ces équipements.  Vous ferez des patineurs heureux quelques part dans le monde .
Contactez nous à world-inline-coach@orange.fr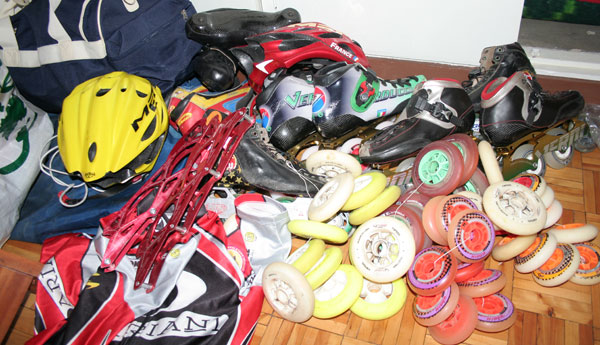 Equipment collect operation
World Inline Coach organise collect of used equipment (or new) for  free donation to skaters in the Developing countries helped by the association. Those donations are organized since several years. ( South Africa, Kenya)
If you have some old pair of shoes, frames ( 5 X84mm for example) wheels ( any diameters) helmet, racing suits bearing are also welcome. The association will organize the repackaging and transport in the concerned countries.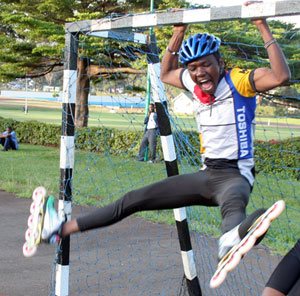 Thank you very much to pass that information around, collect the equipment and contact us to see how we can organize to collect them.
You will make a skater very happy somewhere in the world.
Contact us at world-inline-coach@orange.fr

Colecta de equipo
World Inline Coach organizara  colecta de equipo usado o nuevo para una donación libre a patinadores a países en desarrollo para quienes lo necesiten. Esas donaciones están organizadas desde muchos años (Sudáfrica, Quenia) si tu tienes algún par de Botines, Planchas/chasis, 5 por 84 milímetros por ejemplo, Ruedas, cualquier diámetro, cascos, Uniformes (body), Rodamientos, son también bienvenidos.
La asociación organizara y armara lo recolectado y transportara a los países concernientes al tema. Muchas gracias por pasar esta información alrededor tuyo y recolectar algún equipamiento tu harás muy feliz a algún patinador en alguna parte del mundo.
Contacto nosotros par email  :  world-inline-coach@orange.fr